Urbandale High School
1935-Present
In Memory
Richard Boyer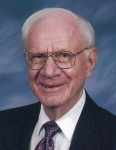 Richard (Dick) F. Boyer, 90, died on July 18, 2023 at Addington Assisted Living Facility in Carroll, Iowa. He was born on February 1, 1933 in York, Pennsylvania, his parents being Reverend Howard and Mrs. Sarah Boyer. In 1939, the family moved to Altoona, Pennsylvania, where Dick eventually attended high school. In 1947, the family moved to Rockford, Illinois, where he graduated from West Rockford High School in 1950.

Dick attended Grinnell College in Grinnell, Iowa, where he majored in music and graduated in 1954. Following college, he enlisted in the Air Force and was stationed one year at Denver, where he played in the Air Force Academy Band. He was then transferred to Parks A.F.B. in Hayward, California, where he served one year as a Training Officer.

After being discharged from the Air Force, Dick began his graduate program in School Administration at the State University of Iowa while teaching Band at Deep River Consolidated Schools two mornings a week. In 1957, he began teaching Instrumental Music in the Urbandale Community School District, Urbandale, Iowa, which he did for six years. During this time, he continued his graduate program at Drake University, Des Moines, Iowa, receiving his MA in 1965 and his Educational Specialist in 1968.

In 1963, he accepted the position of Assistant Superintendent in Urbandale, a position he served until 1970 when he accepted the position of Superintendent of Schools in Creston, Iowa, a position he held for 5 years after which he served as Superintendent in the Algona, Iowa Schools for 13 years.

In 1988, Dick accepted the position of Assistant Bureau Chief in the Administration section of the Department of Education with the State of Iowa, from which he retired in 1996.

On November 23, 1956, he married the love of his life, Nancy K. Johannsen, a union that lasted over 63 years and produced three wonderful children: Patricia (Mike) Ruhnke, William (Kara) Boyer and Mary (Mark) Trapp. The three children added three grandchildren and five great grandchildren to the growing family.

Dick and Nancy purchased a Timeshare in Branson, Missouri, and hosted several family reunions there in subsequent years. They also spent two to three weeks there each summer attending various musical shows including: Andy Williams, Bobby Vinton, the Hughes Family and many others.

Prior to the purchase of the Timeshare, the family pulled their little camping trailer to both coasts, as well as many places in between, including Dick's favorite vacation spot in Ocean City, New Jersey, where he, his parents and sister spent 10 days every summer for many years. Dick looked back on those years as some of his happiest times when the children were growing up. Even after his retirement, Dick and Nancy traveled as much as possible.

A Graveside service will be held at 10:00 a.m., Friday, July 21, 2023 at McDivitt Grove Cemetery, Urbandale, Iowa. All are welcome to attend.

Memorials can be made to the Boyer Family Memorial at the Urbandale United Church of Christ. Online Condolences are welcome at www.IlesCares.com.