Urbandale High School
1935-Present
In Memory
Nancy Boyer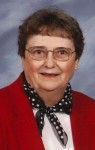 Nancy Kay (Johannsen) Boyer passed away on Friday, December 20, 2019 At SunnyBrook Assisted Living Center in Carroll, Ia. Services will be held at a later date.

Nancy was born on December 17, 1935 in Davenport, Ia to Hugo and Gertrude(Guldner) Johannsen. She married Richard Boyer on November 23, 1956 and together they were blessed with three children, Patricia, William and Mary.

Nancy graduated from Roosevelt High School in Des Moines in 1953 and Drake University in 1956. She then taught high school math in Brooklyn, Ia. and Urbandale High School. When the children started arriving she became a "Stay at Home Mom" and raised the three children. She was active in the Girl Scout and Cub Scout troops of her children and volunteered in many other areas when time permitted.

When the family moved to Algona, Ia., Nancy became involved in the Kossuth County Hospital Auxiliary where she served as Chairperson for the Annual Fall Bazaar, spending many hours working with other volunteers creating craft items to sell at the event.

Upon returning to Urbandale, she began working in Clayton's Craft Store, but soon opened her own craft store, BUSY HANDS CRAFT SHOP, and spent many hours teaching classes so others could learn the skills of crafting. These were some of her happiest years after raising the children. Later she worked as Office Manager for the H&R Block Office in Urbandale for 8 years and ended her "Tax Years" as a tax preparer for Mr. Tax in West Des Moines.

After moving to THE RESERVE INDEPENDENT LIVING FACILITY, Nancy served on the Board of Directors for 6 years, several years as president. She presided as president during the period of changing Management Companies and employing a new Executive Director, which was a stressful time for the Board but Nancy, in her calm and loving manner, was able to navigate the change. She had many friends at the RESERVE but finally decided to move to SunnyBrook Assisted Living Facility since her health was failing and both she and her husband needed more help in their daily living requirements. While at SunnyBrook she quickly made many friends.

Nancy was very active in every church to which she belonged: Urbandale United Church of Christ (45 years); Creston First Congregational UCC (5 years); and Algona United Church of Christ (13 years). She served on just about every committee, taught Sunday School, helped with Vacation Church School and Christmas Programs and even sang in the choir for several years.

Nancy was preceded in death by her parents Hugo & Gertrude (Guldner) Johannsen and her brother Jim Johannsen. She is survived by her husband of 63 years Dick, daughter Pat (Mike) Ruhnke, son Bill (Kara) Boyer, daughter Mary (Mark) Trapp, grandson Brad Ruhnke, granddaughters Laura (Dan) Habhab, Dr. Alix Boyer, and Jenni Boyer, great grandchildren Ava Ruhnke, Derrick Ruhnke, Landry Roberts, Bronson Habhab, and Baylor Habhab. A Memorial Service and Celebration of Life will be held at the Urbandale United Church of Christ with burial at McDivitt Cemetery.