Urbandale High School
1935-Present
In Memory
Ruth Roberts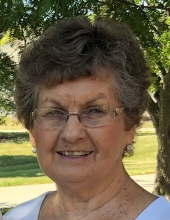 Ruth S. Roberts, 89, of Urbandale passed away August 19, 2022 at Urbandale Health Care in Urbandale. Graveside services will be Wednesday August 24, 2022 at 11:00 am at Chapel Hill Cemetery at Merle Hay in Urbandale.
Ruth was born on November 1, 1932 in Kelley, Iowa to Clarence and Ella (Halverson) Walker. She graduated from Slater High School and married Jack Roberts on January 20, 1952 at Bethlehem Lutheran Church in Slater. He passed away on January 13, 2007. Ruth worked as a teacher's aide and administrative assistant at Urbandale Schools for many years. She was a member of Aldersgate United Methodist Church and enjoyed square dancing, bowling and baking. Ruth loved her grandchildren and great grandchildren; especially enjoying attending their sports, dance activities and gymnastics.
She is survived by her two daughters, Joan (Kurt) Tapps of Altoona and Lisa (Bob) Duede of Urbandale; her son, Matt (Beth) Roberts of Altoona; six grandchildren, Jeremy, Alyssa, Ryan, Austin, Josh and Lindi; four great grandchildren, Calvin, Riley Jo, Mason and Aiden and sister-in-law, Janice Walker of Slater.
Ruth was preceded in death by her parents; husband, Jack; two sisters, Phyliss Soderstrum and Norma Jean Lem; her brother, John Walker; a nephew and a great nephew.